The Clan Menzies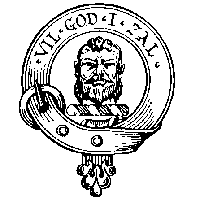 Badge: A savage head affronté, erased, proper.

Motto: Vill God I Zall (Will god I shall).

Gaelic Name: Méin, Méinnearach.
Tartan: Menzies
Origin of Name: Norman de Meyners.
Plant Badge: Menzies heath, Mountain ash.
Pipe Music: Menzies' March.
War Cry: Geal'us Dearg a suas (Up the White and Red).
The name Menzies is of Norman origin, coming from Mesnieres in Normandy to England where it was transformed into Manners, the surname of the Dukes of Rutland, although other early spellings in Scotland include Meyers, Mingies and Mengues. As Normanisation progressed into Scotland under the descendants of Malcolm Canmore and Queen Margaret, a family apparantly settled in Lothian and from there moved into the Highlands. The name occurs in charters of the 12th and 13th centuries and in 1249 Sir Robert de Meyeris became Lord Chamberlain of Scotland to Alexander II. His son Alexander held Weem, Aberfeldy and Fortingall in Atholl. He supported Bruce at Bannockburn and was rewarded further territories, in Glendochart and Durisdeer in Nithsdale, thus by the King's death the Menzies possessions extended west from Aberfeldy almost as far as Loch Lomond.

David Menzies was appointed Govenor of Orkney and Shetland under the King of Norway in 1423. Sir Robert Menzies, another descendant of the first Robert, the chamberlain, had his properties erected into a barony of Menzies by King James IV. In 1688 when the Stewarts were driven from the throne the chief of the clan favoured the new government, but in 1715 the Menzies were "out" for James Edward and although during the '45 Clan Menzies took no part some of them were raised by Menzies of Shian. The Menzies were also involved in various feuds; even with the Campbells, with whom they had various bonds and marriage alliances. Sir Alexander Menzies of Castle Menzies was created Baronet of Nova Scotia in 1665 from whom descended Sir Neil who died in 1910 without issue. His sister became chieftainess till her death.

Other distinguished branches include the Menzies of Pitfoddels and the Menzies of Culdares. One of the Menzies of Pitfoddels carried the Royal Standard at the Battle of Invercarron in 1650 and the last chief founded the Roman Catholic College of Blairs near Aberdeen. The Menzies of Culdares are said to have introduced the larch to Scotland from the Tyrol in 1738. This Menzies house is now regarded by the Lyon Court as the nearest to the chiefship and in 1958 Ronald Menzies of that Ilk was reinvested as Chief. The present-day chief now lives in Australia. Castle Menzies near Aberfeldy was re-acquired and is now being renovated as the head-quarters of Clan Menzies.

[an error occurred while processing this directive]