The Clan Erskine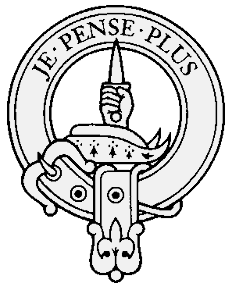 Branches: Erskine of Alva, Erskine of Cambo, Erskine of Dun, Erskine of Restormell.
Arms: Quarterly, 1st & 4th, Argent, a pale Sable (erskine); 2nd & 3rd, Azure, a bend between six cross-crosslets fitchée Or (Mar); overall on an inescitcheon Gules the Crown of Scotland within a Royal tressure Or, ensigned with a Earl's coronet (Earldom of Kellie)
Badge: Dexter, on a chapeau Gules furred Ermine, a hand holding up a skene in pale Argent, hilted and pommelled Or
Motto: Je pense plus (I think more); Decori decus addit avito (He adds honour to that of his ancestors).
Gaelic Name: Arascain
Tartans: Erskine, Erskine (hunting).
The Erskines hail from Renfrewshire and they are first recorded in the reign of King Alexander II (1214-1249). They were staunch supporters of the Bruce and were appointed Constable of Stirling Castle by King David II. Erkines married into both the Bruce and Stewart families.

During the 1430's Sir Robert Erskine inherited the Earldom of Mar. His son, Thomas Erkine was deprived of inheriting the Earldom, 10 years later receiving a barony instead as Lord Erskine. The Erskines were the guardians of the young King James IV during his minority; thereafter to be guardians to 5 generations of royalty.

The 3rd Lord Erskine built the tower of Alloa which was to become the seat of the Erskine chiefs for the next 300 years.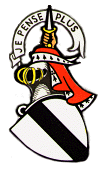 In 1582, Lord Erskine took part in the raid of Ruthven, which placed the young James VI in the hands of an extreme faction of Protestant nobility. He was exiled for his part, but royal favour was later restored and Lord Erskine became Lord High Treasurer in 1616.
Possibly the most famous Erskine was the 6th Earl known as "Bobbing John". He supported the union and the Hanoverians but when he attended court in London in 1714 he was not given the position of Secretary of State for Scotland which he considered his right.
He returned to Scotland and raising the banner of Bonnie Prince Charlie, promptly gathered over 10,000 men. The Earl led his force to Dunblane in 1715 where he met a Hanoverian force under the Earl of Argyll. This was the Battle of Sherrifmuir, and the outcome was inconclusive. The uprising was a failure and the Earl fled to France. His lands were forfeited and not returned to the family until 1824 when the Erskines were restored to the earldom of Mar. The earldom of Kellie (from another Erskine branch) was united with the earldom of Mar in 1835.
---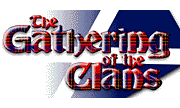 ---
Copyright &copy DISCscribe Ltd. 1997 - All rights reserved.