The Clan Elliot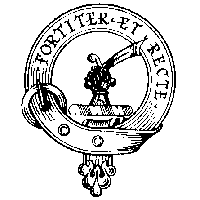 Arms: Gules, on a bend Or a baton Azure
Badge: A hand couped at the wrist in armour holding a cutlass in bend Proper
Motto: Fortiter et recte (Boldly and rightly)
Tartans: Elliot.
The Elliots are a border Clan from the Roxburghshire. Their early history is obscured probably as a result of the destruction of the castle at Stobs in 1712 which housed all the family documents.

According to tradition the Elliots originated in Angus and moved to Teviotdale in the Bruce's time. There was a Robert Elliot who is said to have been 10th Chief of the name in 1476 and it is from this time that the formal history of the Clan is begun.

Robert, the 13th Chief died in the Battle of Flodden along with King James IV and most of the Scottish nobility. In 1565, Scott of Buccleuch executed 4 Elliots for reiving (cattle rustling). This sparked off a deadly feud between the Elliots and the Scotts. Three hundred Elliots rode out to avenge their kinsmen. Both sides sustained heavy losses but the Scott's finally sought and received terms from the Elliots.

The Elliots then took on James Hepburn, Earl of Bothwell and the future husband of Mary, Queen of Scots. In 1569, Bothwell was wounded by an Elliot in a battle around Hermitage Castle. In reprisal a Royal force of nearly 4000 men ravaged the lands of the Elliot's and their neighbours. The Union of the Crowns saw the end of many Border Clans, the Elliots among them. There were many executions around this time and many Borderers emigrated to Ulster or the New World.

Gilbert Elliot gained lands at Stobs in the 1630's and his eldest son was a member of parliament for Roxburghshire in the 1640's. Gilbert's grandson, also an MP, was knighted by King Charles II and created a Baronet in 1666.

Sir Gilbert Elliot of Minto served as a diplomat in Corsica and Vienna, later to be appointed Governor of Bengal. On his return from India he was made Earl of Minto and Viscount Melgund. The Chiefs of the Elliots were for a time Americans but in 1932 the 10th Baronet re-claimed the ancient holdings of Redheugh. The present chief is Mrs Margaret Elliot of that Ilk, daughter of Sir Arthur Elliot, 11th Baronet and 28th Chief of the Elliots.
---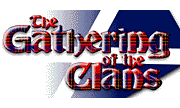 ---
Copyright &copy DISCscribe Ltd. 1997 - All rights reserved.