The Clan MacLaren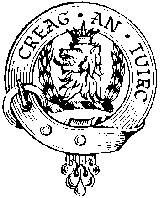 Badge: A lion's head sabled langued or, crowned with an antique crown or, the four points argent, surrounded by laurel in orle proper.

Branches: Lochnaw, Loch Ryan, Clendry, London

Motto: Creag an Tuirc (The Boar's Rock).

Gaelic Name: MacLabhruinm.
Tartan: MacLaren
Origin of Name: Gaelic MacLabhruinm (son of Laurence).
Plant Badge: Laurel
War Cry: Creag an Tuirc (The Boar's Rock).
The history of the origins of the Clan MacLaren remains speculative although it is generally agreed that the homeland of the MacLarens was the Braes of Balquhidder, the district round Loch Voil. There appears in fact to be two quite distinct races of this name; the MacLarens of Perthshire and the MacLaurins who were alleged at one time to have owned Tiree.

In the Ragman Roll of 1296 three MacLarens were recorded swearing fealty to Edward I, all said to be cadets of the Earls of Strathearn. When the Earldom of Strathearn was seized by the crown in 1370, the MacLarens were reduced to tenants, they were loyal to the crown and fought for James III at Sauchieburn in 1488, James IV at Flodden, 1513, and Queen Mary at Pinkie in 1547. They were also engaged in frequent feuds with their neighbours the MacGregors who in 1558 slaughtered no fewer than eighteen entire MacLaren families and seized their lands.

However, in 1587 and 1594 they are still recorded as having a chief of their own although later appear as followers the Stewarts of Appin or the Murrays of Atholl. Dugal, progenitor of the Stewarts of Appin was the son of one of of the Stewart Lords of Lorne and a daughter of the MacLaren of Ardveche. In 1745 the clan were "out" under Appin and suffered severely, MacLaren of Invernenty who was taken prisoner made a daring escape and is portrayed in Sir Walter Scott's novel "Redgauntlet". In 1797 John MacLaren of Dreghorn was raised to the bench as Lord Dreghorn having proved his claim to chiefship in 1781 through his descent from the minor family, the MacLarens of Tiree who had long held the island.

For more information about the Clan MacLaren, visit their website at http://members.aol.com/Rapmack/maclaren.html.
---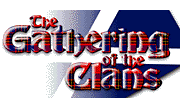 ---
Copyright &copy DISCscribe Ltd. 1997 - All rights reserved.