MacDonald of Clan Ranald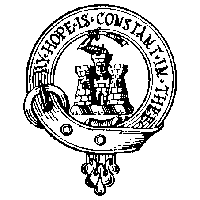 Badge: On a castle triple towered, an arm in armour, embowed, holding a sword, proper.
Arms: The captain of Clan Ranald
Motto: My hope is constant in thee
Tartans: MacDonald of Clan Ranald
Plant Badge: Heath
Gaelic Name: MacDhòmhnuill
Pipe Music: Spaidsearachd Mhic Mhic Ailein (Clanranald's March)
Septs: Alcock, Alison, Allan, Allanson, Allen, Callan, Callen, Currie, Isaac, Isaacs, Ketchen, Ketchin, MacAchin, MacAichen, MacAllan, MacBurie, MacCrindle, MacCurrach, MacCurrie, MacDonald, MacEachan, MacEachen, MacEachin, MacGachan, MacGeachan, MacIsaac, MacKeachan, MacKechnie, MacKeochan, MacKessack, MacKessick, MacKissock, MacMurray, MacMurray, MacVarish, MacVurich, MacVurie, MacVurrich, Park.
The MacDonald's of Clan Ranald take their name from Ranald, the son of John of Islay, 1st Lord of the Isles and Amy Macruari. Ranald was the obvious heir to chiefship of Clan Donald but However, when the succession occured it was Donald, Ranald's younger half-brother who became chief. Ranald however did receive the territories of Moydart, Lochaber and Arisaig.

The next chief was Alan, eldest of Ranald's five sons. Alan is the founder of the Glengarry MacDonald's. During the 1400's there were long running feuds between the various branches of Clan Donald. These culminated in 1544 with the battle of Blar-na-leine. The battle was between the supporters of Ranald, son of the fifth chief and his cousin John of Moidart who opposed him. On Ranald's side were the Frasers of Lovat and siding with John were the MacDonnells of Keppoch and the Clan Cameron. In the end the Frasers were defeated and John of Moidart became the chief of Clan Ranald.

Another remarkable chief succeeded to Clan Ranald in 1687. This was Alan who, after only three years as chief, led his Clan at Killicrankie in support of King James VII. He was forced into exile in France where he served in the French army for a short time. In September of 1715 he was one of the first to join the Jacobite cause. He was created Lord Clanranald by the grateful James VII.

The Clan Ranald was also well represented in the '45 rebellion for which the chief was forced into exile once more in France. He was allowed to return in 1754. The chiefly line died out in 1944 at which time the chiefship passed to the descendants of Alexander MacDonald of Boisdale, a younger brother of the seventeenth chief.

---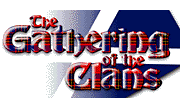 ---
Copyright &copy DISCscribe Ltd. 1997 - All rights reserved.