The Clan Kennedy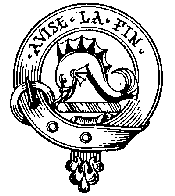 Arms: Argent, a chevron Gules between three cross crosslets fichée Sable, all within a double tressure flory counterflory Gules.
Badge: A dolphin naiant Proper
Motto: Avise le fin (Consider the end)
Branches: Cassilis, Culzean, Kermuck, Moray, Skye.
Tartans: Kennedy, Kennedy (Hunting)
Gaelic Name: MacUalraig, Ceannaideach
This name comes from the old Irish Gaelic, 'cinneidigh', literally meaning 'ugly headed'. The family came from Ireland to Celtic Dalriada, now Strathclyde, but are mainly associated with the district of Carrick in Ayrshire. They claimed descent from the Earls of Carrick and kinship to the Bruce family, whom they supported against the Comyns and throughout the War of Independence.

John Kennedy of Dunure acquired lands at Cassillis about 1360, and witnessed a charter by Robert II in 1384. His son, Sir Gilbert, was one of the hostages for the release of David II by the English in 1357. Gilbert's son, James, married Princess Mary, second daughter of Robert III. Their son, another Gilbert, was created Lord Kennedy in about 1457 and was one of the six regents during the minority of James III. A brother of the first Lord Kennedy, James Kennedy, was one of Scotland's best-loved bishops. He served briefly as High Chancellor of Scotland and was Bishop of Dunkeld, and later Archbishop of St. Andrews. At St. Andrews he founded St. Salvator's College in 1455.

Hugh Kennedy of Ardstinchar served as commander of the scots mercenary troops who fought for Joan of Arc at the siege of Orleans; hence Joan figures on the arms of Kennedy of Bargany. Sir David, third Lord Kennedy, was created Earl of Cassillis in 1509 and died at Flodden in 1513. The second Earl was murdered in 1527. Gilbert, third Earl, was one of four Scottish commissioners who were poisoned at Dieppe on their return from the marriage of Mary, Queen of Scots to the Dauphin in 1558. He had inherited his title at the age of twelve when one of his first acts was to sign, under duress, the death warrant of Patrick Hamilton, the first Scottish Protestant martyr. The fourth Earl earned an infamous reputation by 'roasting' Alan Stewart, Abbot of Crossraguel, in the black vault of Dunmore in order to obtain tracts of abbey land.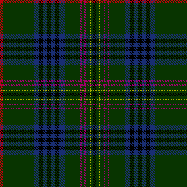 The sixth Earl of Cassillis, John, was Lord Justice General of Scotland from 1649 to 1651. He was a zealous Protestant, as was his son, the seventh Earl, and both were firm supporters of Parliament during the civil war. The Justice General sat in Cromwell's House of Lords. They suffered for their beliefs, but their estates remained largely intact. When the eighth Earl died without heirs there was a three-year court dispute to determine the succession. The House of Lords finally found in favour of Sir Thomas Kennedy of Culzean in preference to William, Earl of March and London. Sir Thomas's brother, David, an advocate, succeeded him in 1775 as tenth Earl, and was an active improver. He commissioned the architect Robert Adam to build the castle at Culzean, considered to be Adam's masterpiece.
On the death of the tenth Earl the title passed to a kinsman who had settled in America. Captain Archibald Kennedy was an officer in the Royal Navy who held estates in Hoboken in New Jersey and became the greatest property owner in New York. He tried to be neutral during the American War of Independence, and was accordingly mistrusted by both sides. Half of his New York properties were confiscated, including number 1, Broadway, which was appropriated by George Washington. His son, the twelfth Earl, was a close friend of the Duke of Clarence, who, on his coronation as William IV, created him Marquess of Ailsa. The second Marquess, Archibald Kennedy, was killed in a hunting accident in 1870. His son succeeded to the title at the age of twenty-two, and after his death in 1938 the family title was borne by each of his three sons in turn.
---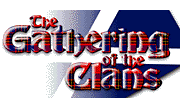 ---
Copyright &copy DISCscribe Ltd. 1997 - All rights reserved.